The Sadolin Lineage is that family in Denmark, who - without broken lines - have had the longest term of Vicar-ship in the country - more than 500 years service. The first Sadolin who got a Vicar-ship was appointed in 1470, and the last appointed Vicar retired in the late 1970'ties.
The living members of the Sadolin Lineage belongs to the "Younger Branch" ("Yngre Gren"), whos ancestors are Ole Jørgen Sadolin and Louise Emilie Suzette born Marcussen, who is also of lead to the "MacGregor of Inneregny" in Scotland.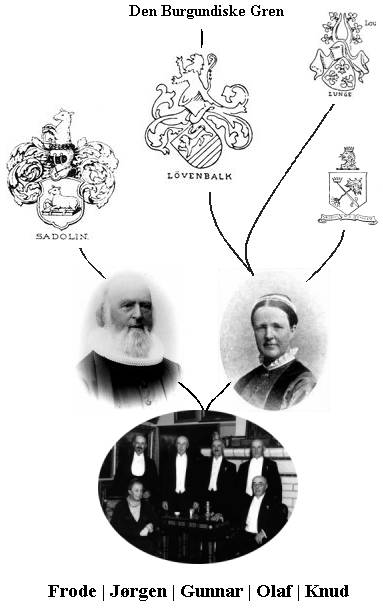 You can view our entire family in our web-tree at OneTree.
Here you will have our ancestor Ole Jørgen Sadolin as focus point, and from him, you are able to view all members of the family (who is registred in our database).
The following is an introduction to the upper-layer of the "Younger Branch" of the Sadolin Lineage:
Ole Jørgen Sadolin and his wife Louise Suzette Emilie Marcussen had eight children; five sons and three daughters (one daughter was did not get married and had no childen, another daughter died as a teenager, and a third daughter died when she was born).
Today (2004) we are nearly 300 people whom are descendant to Ole Jørgen and Louise Sadolin, and here you can see all the descendants.
7th. Generation (12th. Generation) - Ole Jørgen Sadolin, Vicar in Fredensborg and later Valløby og Reerslev (1826-1908).
Married to Louise Suzette Emilie Marcussen (1860-1906) daughter of Belgian Honorary Consular and Ship Agent & Broker Ulrik Christian Marcussen (son of Estate Owner and Post Master General Poul Marcussen, Høgholm Estate, og Louise Elisabeth Henriette Saabye) og Agnes Coleman MacGregor of Inneregny (daughter of English & Chinese Honorary Consular and Commercial Agent Francis Emanuel Coleman MacGregor of Inneregny and Susanna Johanna Bachmeister)
The five sons:
8th. Generation (13th. Generation) - Frode Sadolin (1866-1951) Doctor and Gymnastic Editor

Married to Margrethe Cecilie Bartholdy Møller (1869-1935) daughter of Vicar Frederik Benedikt Møller (son of Vicar Jens Erik Møller and Cæcilie Giersing Leth) and Jakobine Caroline Augusta Bartholdy (daughter of Office Manger Christian Mari Thøger Bartholdy and Juliane Margrethe Bohn)
8th. Generation (13th. Generation) - Jørgen Theophilus Sadolin (1871-1956), Rural Dean at Nørre Herred on Falster

Married to Astrid Hjorth (1875-1939) daughter of Instrument Constructor Theodor Emil Hjorth (son of ??? and ???) and Anna Alida Louise Meyer (daughter of ??? og ???)
8th. Generation (13th. Generation) - Gunnar Asgeir Sadolin (1894-1955), Artist, Managing Director and Executive Deputy Chairman of the Board of the Directors of Sadolin & Holmblad Ltd. and Kemisk Vaerk Koege Ltd.

Married to Esther Margrethe Schultz (1888-1964), Deputy Non-Executive Chairman of the Board of Directors of Sadolin & Holmblad Ltd. and Kemisk Vaerk Koege Ltd., daughter of Lighthouse Keeper William Schultz (son of Admiral and Permanent Secretary of the Danish Navy Johan Philip Schultz and Hansine Haagen) and Bertha Brøchner (daughter of Bertel Brøchner and Hedvig Marie Møller; adopted as child - after both parents death - by Composer Peter Arnold Heise and Vilhelmine "Mine" Hage)
8th. Generation (13th. Generation) - Olaf Irenæus Sadolin (1876-1958), Vicar on Frederiksberg and in Fredercia

Married to Augusta Gabrielle Petersen (1878-1969) daughter of Manufacturer August Nicolai Petersen (son of ??? Petersen and ??? Rønnow) and Augusta Louise Henriette Jakobsen (daughter of Waldemar Jakobsen and Emilie Trautwein)
8th. Generation (13th. Generation) - Knud Sadolin (1880-1960), M.Sc. (Engineering), Managing Director and Executive Director of the Board of Directors of Sadolin & Holmblad Ltd. and Kemisk Vaerk Koege Ltd.

Married to Ingeborg Prytz (1887-1986) daughter of Lieutenant-Cololnel of the Danish Army Holger Prytz (son of Vicar Peter Christian Prytz and Anne Eline Garben) og Antonio Briand Betzy Philibertha de Crèvecoeur (daughter of Gebhard Briand de Crèvecoeur and Marie Dahl)

If we for instance continue the generations with Frode Sadolin and his male descendants, the line will look like this:
9th. Generation (14th. Generation) - Ebbe Sadolin (deceased in 1982)
10th. Generation (15th. Generation) - Pelle Sadolin
11th. Generation (17th. Generation) - Jesper Sadolin
12th. Generation (18th. Generation) - Simon Sadolin
And if we followed the Scottish clan rules, then Pelle Sadolin would be the Sadolin Famliy's "Chief".
If you want to view the generations before the 6th. Generation, see the "Old Branches". And you can also view our our family relations to The Burundiske Gren, the MacGregor's and the Løvenbalk's. (All these pages are part of our Danish website - and is in Danish, but it is quit easy to see the generations there).
If you are connected by family relations to the Sadolin Lineage, and you want your family added to the web-tree, please contact Nikolaj Sadolin, who is in-charge of the Sadolin Family's genealogical forum.